Emergencies happen. You can't wait for pay day. Don't worry – we've got a quick solution for you.
Whether it's a sudden job loss, a broken tooth, or a car that just won't start, emergency situations pop up and leave us scrambling for solutions that we can implement today. Solutions usually require cash now, and that's where we come in.
When traditional lending is not an option, and your emergency savings are not what you'd like them to be, our NO CREDIT CHECK title loans are an immediate way to ensure you can face these unexpected situations with confidence.
PAYMENT CALCULATOR
*Fees for GPS device and installation may apply.


MONEY IN LESS
THAN AN HOUR

3, 6, 9, 12 or 24
MONTH TERMS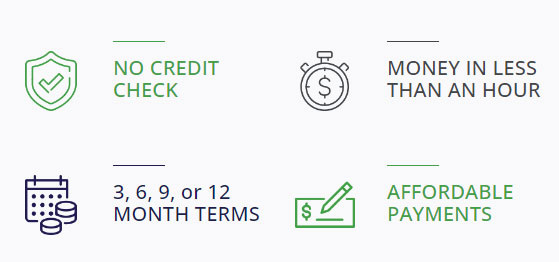 A short-term title loan is an excellent way to get cash now by using the equity you already own in your vehicle. Applying is easy, and we let you pick your payment schedule based on what you can afford for a monthly payment. Then, we put cash in your hand, usually within the hour. Emergencies come with their own stress – don't let your finances be one of them.