Smart Financing for
Smart People™
Cash Today offers no-hassle personal and commercial short-term lending options to hard-working Albertans in just minutes.


MONEY IN LESS
THAN AN HOUR

3, 6, 9, 12 or 24
MONTH TERMS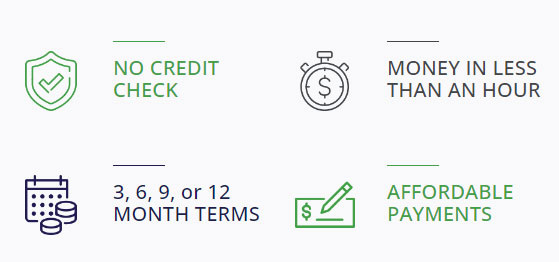 Use our easy online application today for fast, safe, and reliable funding with affordable and flexible payment options and same-day financing with no credit check required.
Applying does not affect your credit rating.
We are proud to stand by our neighbours in Central and Northern Alberta as they live their lives free from financial restraint in times of need.  Whether they need a bridge title loan, emergency funding or debt consolidation, our professional and understanding lending advisors are here to help.
Whether you struggle with poor credit, no credit, or just need funds quickly, apply online today and receive your cash in less than an hour.
PAYMENT CALCULATOR
*Fees for GPS device and installation may apply.

"I work in the oilfield business and have had to use these kind of businesses many times while waiting for my money to come in. For me personally Cash Today-Title Today helped me through a crunch when I needed funds fast. My credit didn't allow me to use a bank where of course I would get better rates. The staff clearly outlined the rates that I would have to pay and that their service was a short-term solution and not a longer term one."
ROBERT B.
Smart Financing for
Smart People™
Learning how to create – and follow – a healthy and realistic monthly budget can make all the difference when ensuring your short-term loans are being repaid in good standing. They can also help you [...]
Monitoring your credit score, and working hard to improve it over time, should be top of mind for all individuals. The question becomes, what's the best way to do that? Like most people, you've likely [...]
Whether your business is small or large, every business started somewhere, and chances are you can find a dirty garage, or stuffy bedroom office somewhere in every business origin story. Starting a business can be [...]