Safe and Reliable Title Loans
Cash Today offers short-term lending solutions that allow you to use your existing assets quickly and safely as collateral to help "bridge" the gap between your current financial situation and getting back on your feet.
We offer easy, and quick no credit check title loans up to $50,000 and can get you your money within an hour.


MONEY IN LESS
THAN AN HOUR

3, 6, 9, 12 or 24
MONTH TERMS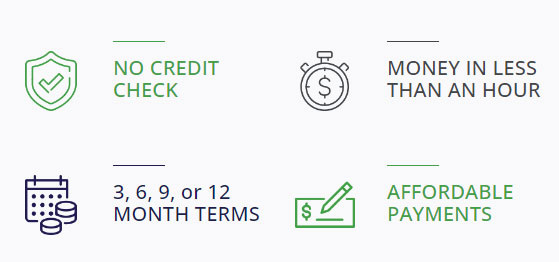 We understand that life happens. And sometimes, financial need exceeds your reserves.
Whether it's a loss of a job, a death in the family, an unexpected home maintenance expense, or anything else that life throws at you, you can rest knowing that our team of short-term lending advisors are here to help you decide which title loan is best suited to your need, what the best repayment plan is for your family, and get you the cash you need with no hassle, and no gimmicks, immediately.
Whether vehicle, boat, commercial or equipment title loans, we have a solution that will work for you.
Contact us today to review your options or apply online.
PAYMENT CALCULATOR
*Fees for GPS device and installation may apply.
Learn more about installment loans.
Installment loans are an alternative to traditional lending options and can provide you with the flexibility in your payments and qualifications that you need.
An installment loan is a very common form of financial lending product. Essentially, an installment loan defines a single principal amount borrowed, with a set percentage of interest, structured over an equal monthly payment plan (whether monthly or bi-weekly), until the loan + interest has been returned to the lender.
Learn more about Cash Today's installment loans, and how you can safely and reliably use them to meet your immediate and emergent financial need.

"I work in the oilfield business and have had to use these kind of businesses many times while waiting for my money to come in. For me personally Cash Today-Title Today helped me through a crunch when I needed funds fast. My credit didn't allow me to use a bank where of course I would get better rates. The staff clearly outlined the rates that I would have to pay and that their service was a short-term solution and not a longer term one."
ROBERT B.